Manfred Kielnhofer
Steyr Hauptplatz ab 16.07.2020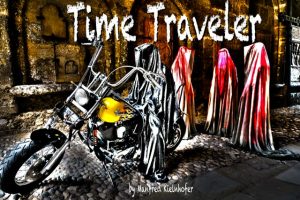 Time Traveler von Manfred Kielnhofer
Die "Wächter der Zeit" bereisen seit vielen Jahren Museen und Ausstellungen auf der ganzen Welt. Die Zeitreisenden Gestalten auf Pferden und Rädern ist die neueste Kreation. 
Erschaffen hat die mystischen Wesen der österreichische Künstler Manfred Kielnhofer. Er ist seit vielen Jahren freischaffender Künstler und arbeitet als Maler, Bildhauer und Fotograf.
Wächter / Guardian sitzend auf Motorrad.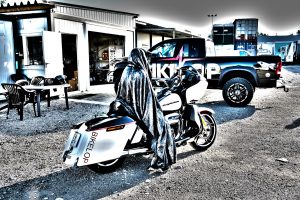 Das sind sie neuesten "Guardians of Time" für Harley Biker!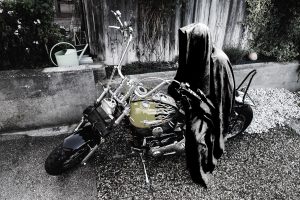 Manfred "KILI" Kielnhofer (born January 28, 1967 in Haslach an der Mühl) is an Austrian painter, sculptor and Photographer.
Life
Manfred "KILI" Kielnhofer visited the technical College Linz where he took his final exam in 1995. he was engaged with technique and design and art on building lead him to his special way of art. Since 2000 he lives as a freelance artist in Linz. 2005 he launched Gallery Artpark in Linz.
Work
Kielnhofer's most famous work is, "Guardians of Time". Drawing on religious and supernatural phenomena, the Guardians of Time are stone statues that are cloaked in hooded robes and situated to seem like they are moving forth in some kind of ritual. In some cases the figures stand alone; in other instances, they are grouped together as if whispering to each other. Kielnhofer places his statues in public places like ancient castles, old mines, plazas, and parks. They are installed and moved without fanfare, heightening the eerie, mystic aura they give off. The first of these mysterious figures was created in 2006. Since then, Kielnhofer continues to create and install these statues all over the world. In 2012, the artist created the first of a new series of miniature guardians out of plastic.
In 2009, Kielnhofer developed a new sort of 'act photographs', which involves the construction of a waterplate in his studio, where he can take photos of models sitting or lying down, likely on a mirror.
In 2010 he developed the concept of the Light Art Biennale Austria 2010 with Martina Schettina.
The Interlux-Chair, Kielnhofers artwork shown at the biennial, was registered in the design-database of the MAK, the Museum for Applied Arts in Vienna.
Stipends
2000 Studies in USA New York, Miami
2005 Stipend of the county of Upper Austria, Studio at the Egon Schiele Art Center Krumlov CZ
2007 Symposium – Egon Schiele Art Centrum – Cesky Krumlov 100 years after Egon Schiele
2012 International symposium of sculpture Styria, Hartberg "Slow!"
Exhibitions
2000–2005. : Allerton Art Gallery New York, Gallery Tampere Finnland, Citygalerie Linz, Giga Galerie Ansfelden, filmproduction shadow performance main place Linz, biggest children-painting of the world, Galerie Generali Group, Land-culture-project Enns. Front-painting of an ancient house in Traun.
2006–2007. : Gallery Artpark Linz – Skulpture garden Artpark, Gallery Fotopark Linz, "giant ball of integration" on Tournee, Timeguards on tournee
2008. Egon Schiele Art Centrum (CZ), Gallery Fontaine Amstetten, Black Box Gallery Copenhagen/Linz, art garden Graz; art in the public: Dianabad Wien.
2009 Cass Sculpture Fondation (UK), Art Vilnius together with Martina Schettina, Franz West and de:Herbert Brandl,[5][6] Artfair Berlin-Arttower, Galerie Seywald Salzburg, Mobile-Galerie Hörsching, Woka Lamps Vienna
2010 Castle Schloss Steyregg near Linz, Neuköllner Kunstsalon Berlin, Galerie Kunst und Handel Graz, Kunstraum Ringstrassen, Light Art Biennale Lichtkunst 2010 Austria, Galerie Claudiana, Area 53 vienna, Citygalerie, Kunsthandel Freller
2011 Galerie Thiele Linz, Nord Art Germany, Kunstprojekt "ghost car" zur Art Basel, Liste, Scope, Volta Show, Festival of Lights Berlin, Grevenbroich Inseln des Lichtes, Kunsthaus Tacheles Berlin, Kunstverein Passau, ArtStays Ptuj Slovenia, Time guards on tour in Venice
2012 Designmonat Graz, Galerie Bachlechner, Sculpture show Castle Hartberg "Slow", Ferryman Ferry Basel public Art Basel show, Occupy movement DOCUMENTA (13) Kassel Time guards, Festival of Lights Berlin, Kunstmesse Linz Galerie Thiele, Art & Antiques fair vienna sculpture garden
2013 Galerie Liebau Burghaun Fulda, Phantasten Museum Wien, Guardians of Time Settle in During Art Dubai, VBKW Künstlerparade Stuttgart, Phantasten Museum Wien, public art show Venice Biennale, SCOPE Art Show Basel Galerie Kunst und Handel, Art Bodensee Galerie Galerie Bachlechner, austrian contemporary sculptures castle Tabor, Festival of Lights Berlin, art and antiques vienna fair, Kunstmesse Fulda Galerie Liebau, IC contemporary Istanbul art project Galerie Kunst und Handel Graz vienna, Wikam Art&Antiques fair vienna sculpture garden Galerie Kunst und Handel, Art&Antique vienna Hofburg Kunsthandel Freller


External links

Archiv contemporary-art.at
Light Art Biennial Archiv
Information at Archiv Basis-Wien (German)
Informations about Manfred Kielnhofer on artfacts.net
Manfred Kielnhofer (Austrian, 1967) on MutualArt.com
Auction results artnet.com
Manfred Kielnhofer on antiques.com
Kielnhofer at MAK Data base (German)
International Sculpture Center sculpture.org
Manfred Kielnhofer on sculpture.org.uk
Wikipedia Kielnhofer